Bondage Play
Bondage Play in BDSM
Looking to specialize in your sex experience, try forms of bondage play---the most popular forms in BDSM. If you've ever found yourself indulging in fantasies about tying up your partner in the bedroom, you're not alone, you're just one of the 45% of the world who has imagined a bondage experience, now more than ever more popular and socially acceptable.

However, being curious about BDSM, KINK, bondage, and fetishes doesn't mean knowing where and how to start. Here, we'll introduce you to what bondage play is, how to get started, where to position the bond, and some tips.
💡 What is a bondage play? What are the benefits?
---
Bondage is a form of BDSM, in BDSM (also known as KINK), Bondage stands for B, which is when a person binds their partner in a sexual position, which can be simple or complex. Bondage sex is consensual, it is a perfectly healthy and respectable form of sexual activity, please distinguish it from sexual and domestic abuse. Studies have shown that you can reap many unexpected benefits by adding BDSM to your sex life. Such as:
- Enhanced pleasure and pleasure
- Improve relationships and enhance mutual trust
- Healing wounds
- Improved sexual experience
💡 How to start bondage sex?
---
From being lightly handcuffed to a bedpost to hanging upside down from a chain hooked to the ceiling, restraint methods come in all shapes and forms. Beginners can start with simple bondage toys such as handcuffs, shackles, blindfolds, etc. It is this wide range of simple bondage toys that have made BDSM bondage more mainstream.
💡 Who can you go with?
---
Before answering this question, I would like to say that while we do not rule out that you may find some strangers by shaking or partying, the bondage is best between acquaintances who have played the game before, and they are more likely to have some bondage on you Open to ideas. If not couples or partners, then at least recommend people in like-minded communities.
💡 Where can you choose for bandage play?
---
It really depends on the kind of restraint you want, for starters, any room in your home with a little imagination will do. If you decide to move on to more dangerous materials, consider Andrew's cross or chain link, but unless you have a very large bedroom, you may want to ask on the internet if local bondage clubs and communities can point you to the right one direction.
💡 12 Positions for Leather Bondage Play
---
📍 Dog slave position (Click picture to buy the same product)
📍 Crab restraint
📍 Chest restraint
📍 Handcuffs
📍 Merge Elbow
📍 Folding arms
📍 Folding legs
📍 Crucifix
📍 SP position
📍 Hands and feet tied
📍 One-line split leg
📍 Back straight arm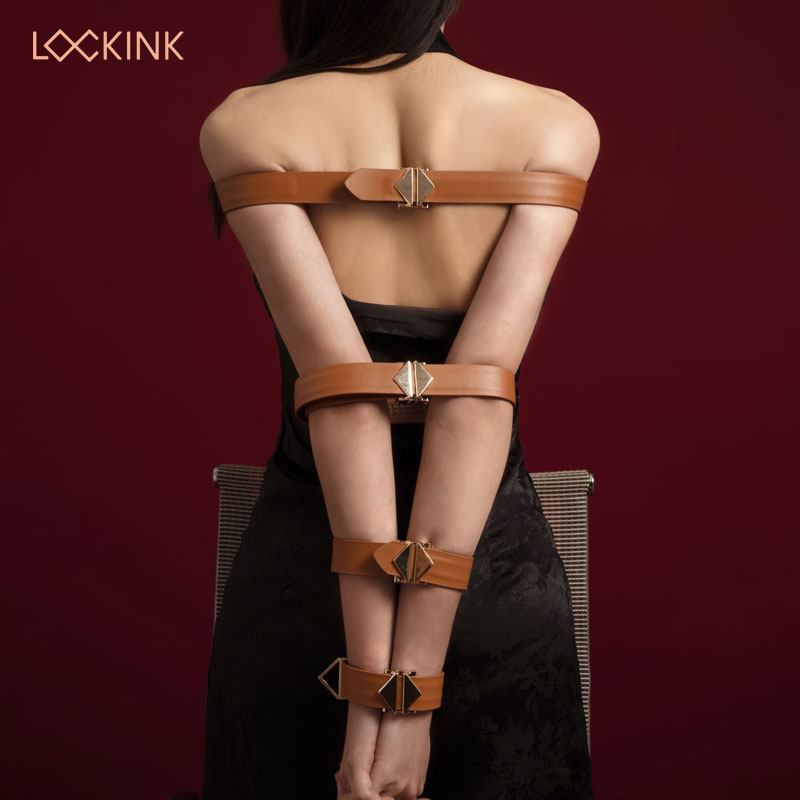 💡 7 Tips under bondage play processing:
---
1. Discuss mutual interests and boundaries.
Domination and obedience in BDSM must be based on mutually agreed powers, which means that S agrees that while D determines what happens in the scene, everything is agreed upon and agreed upon in advance.
Before trying anything new, discuss it with your partner to make sure you both have an idea of what's coming and choose a safe word or cue to stop playing if necessary.
2. Say something dirty.
Anyone can engage in swearing related to BDSM themes, whether you are dominant, submissive, or both (people who play both are called conversions).
Dirty talk lets you express your wishes, verbal cues also help you imagine hot fantasies, and dirty talk lets you explore fantasies before actually trying them out.
3. Add an eye mask.
Adding sensory deprivation to your sex life is an easy and tempting way to build tension. Whispers in your ear may seem more exciting when you can't see because you're wearing a blindfold.
With the blindfold on, the non-masked partner can tease and tease the wearer, making them guess what's coming next, including kissing all over their body, whispering dirty words in their ear, or tickling the erogenous zone with a feather.
4. Low-temperature candles.
Way play is a pain game commonly used in BDSM, or the use of heat and cold in sexual play to stimulate sexual desire. As far as candles go, don't just use candles you get from the grocery store, which can be a little too hot.
It is recommended to buy professional low-temperature candles from LOCKINK, which will melt into essential oils that can be used in erotic massage, after which you can try to role-play as a massage therapist and client.
5. Use a rope.
There are many great books out there that will teach you some basic knotting techniques, such as Midori's The Art of Seduction of Japanese Bondage. You can buy Shibari bondage cords or even use silk scarves or ties.
Pro tip: Lay whatever material you use flat on your skin, don't squeeze it too tightly and affect circulation. If you're using rope, keep some safety scissors around so you can simply cut the rope if one of your knots gets stuck.
6. Put on a pair of handcuffs.
Handcuffs are another common restraint tool, and they tend to be very user-friendly. While ropes are versatile, you don't have to worry about your handcuff tying skills when using handcuffs.
7. Play dress-up.
Role-playing can help you get into a wacky mood when you take on the role of someone with the power dynamic you want to explore, like boss and secretary or student and professor.
Dressing up is a creative, free way to explore hidden desires, so if you're excited about your partner's dominance or submission, but a little nervous, dressing appropriately may help.
Other BDSM Play You May Be Interested In:
BDSM Scene Ideas Guide
Nipple Play in BDSM
BDSM Impact Play - The Best Guide for Kink Beginners
BDSM Sensation Play